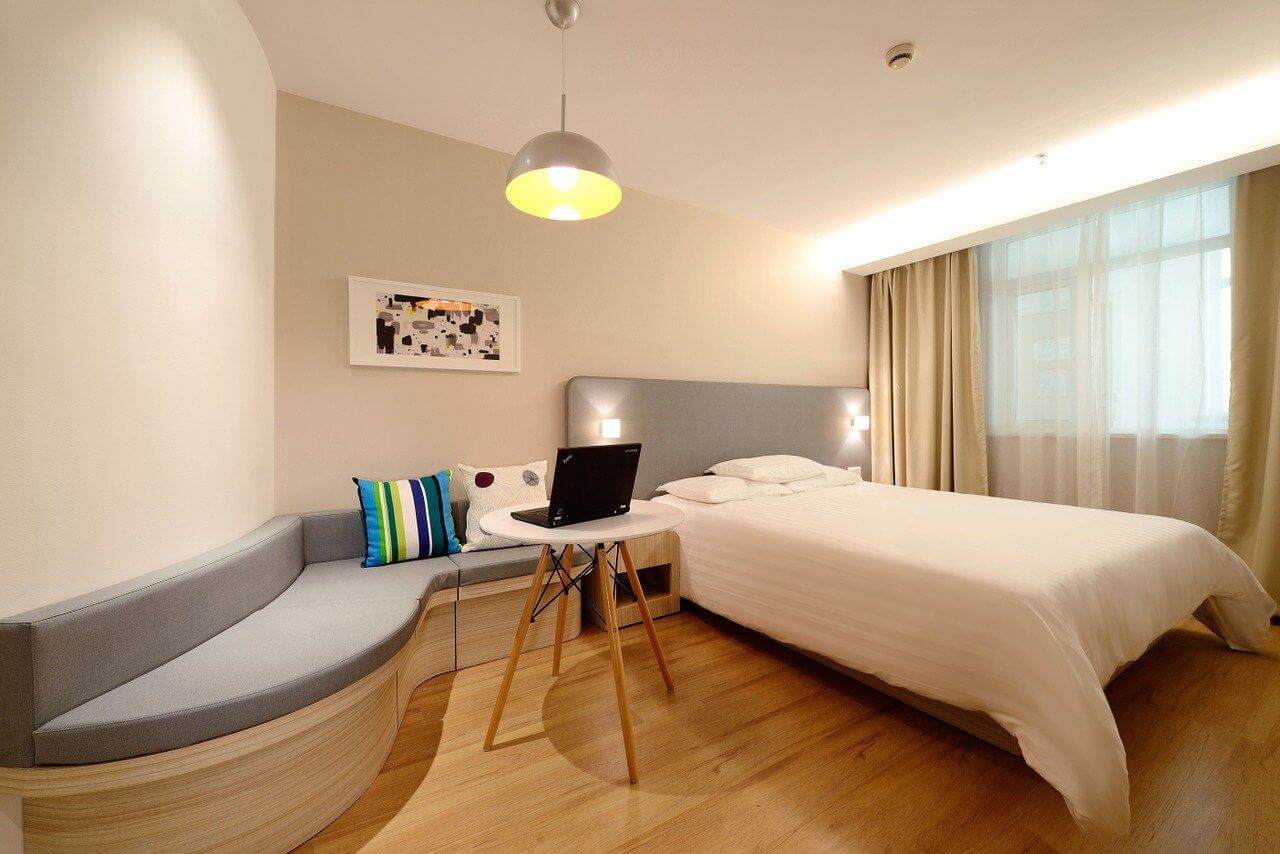 A home network connection is usually shared amongst the members of the house. And any close family or friends that you trust. You can establish secure connections through a reliable service provider to find internet providers that prioritize customer safety and security.
However, if you don't want to share your primary network password with everyone who steps into your home or office, this is where a guest network comes in handy.
In this article, we'll show you how to set up a guest network in your home or office so that others can access the internet without accessing your primary network.
What is a Guest Network?
A guest network is a secondary WiFi network that's created on a router, so your visitors have internet access without compromising the security of your primary WiFi network.
Usually, it has a password, so you can give it out freely without worrying about someone hacking into your computers and devices.
Guest networks are helpful at home when you want to give friends access to the internet without handing out the password to your primary network.
You can also set a guest network for your office, which is helpful if you have clients or vendors coming into your building who need an internet connection but don't need access to your internal systems.
It's important to note that someone on a guest network can hack into your primary network and gain access that way, especially if you have extremely weak passwords on all of your devices.
It is advisable to use strong, unique passwords on each device and change them regularly.
When you create a guest network, it'll typically be on its subnet, which means it cannot communicate with devices on your main WiFi subnet—that includes other computers and all of the smart home devices connected to your network.
It keeps your information secure and private from guests who may not understand how damaging their actions could be when connecting to an unknown WiFi network.
Establish a Guest WiFi Network
For first-timers, we separated this section into two parts.
Log into Your Router with a Browser
Before Yyou Start
You'll need the login information for your router. Look at the manual that came with your router or a sticker attached to its bottom. If you don't have this information, reset your router to its factory defaults.
The default username and password combination is usually "admin" for both fields, but check your router's documentation for more details.
Step 1: On any device connected to your home network, open a browser and enter your router's IP address in the address bar to bring up the login page. This IP address is often printed on the bottom of routers (look closely — it might be tiny) or in their menus.
Step 2: Enter username and password, click "Log In," or press Enter.
Step 3: In the settings menu, look for a section that controls guest access, which may be named something like "Guest Network" or "WiFi Guest Access," depending on the brand and model of your router.
Windows 10: Finding Yyour Rrouter's IP aAddress
Step 1: On the Power User menu, right-click the Start button and choose Windows PowerShell (Admin).
Step 2: Type "config" at the prompt.
Step 3: Record the number displayed next to Default Gateway.
Set Up your Router
Step 1: Connect your device to the local network.
Step 2: Type the router's IP address in your browser's address bar.
Step 3: Log in to the router once the login screen appears.
Suppose you cannot locate the login information in the paperwork or on the back of your router or hybrid provided by an internet service provider (ISP). In that case, you might need to contact customer support. The login information may have already been changed.
Establish Yyour Guest Network
The router backend should be loaded in a guest access category or tab. Guest access is listed on the left of most WiFi interfaces. However, a guest access card may also be displayed on the right, including a toggle, SSIDs, and password information.
Once you're logged in, you'll need to locate the Guest Network settings and enable them. These settings vary depending on what type of device you have. In some cases, it may be located under the Advanced Settings or Wireless Settings section. Every ISP offers unique value in terms of connectivity. For example, Cox internet plans offer provide a direct and dedicated fiber line to your house.
If your device allows it, give your new Wi-Fi network a name and password that guests can use to connect to the internet. It's safest not to keep the default WiFi name and password.
You'll also want to figure out how long you'd like this guest network to be available before it shuts off automatically. If you have multiple guests over at once, try not to set this value too low so that all of them can connect without facing any issues.
Getting Started (For Beginners)
With a DSL or cable connection, your ISP (internet service provider) must've provided you with a modem device. Your modem takes the data from the internet and turns it into something your computer can understand.
It can be a single device, but many ISPs provide separate modems and routers when signing up for service. In that case, the router usually provides WiFiWi-Fi access to multiple devices.
For example, you may have a desktop computer plugged directly into your modem by an Ethernet cable and then a WiFiWi-Fi laptop to connect to the same modem. The computer communicates with the router, which is communicating with the modem.
These devices contain settings that we'll need to access to set up guest WiFiWi-Fi. If you have a combined unit, with only one network name (or SSID) being broadcasted, then all of your settings are contained in one place.
If you have separate devices, it may be easiest to visit them both on a desktop computer connected via Ethernet cable. This way, you can see them both at once if they're not nearby. Unfortunately, these are generally sealed devices that you can't adjust, though some have a simple on/off button.
ISPs often include a combined device providing modem and router functions, but they may still own it. They rent them out to you at an extra monthly charge.
What's the Complication?
What's complicated is that modems and routers perform two different functions. First, modems accept the internet signal provided over a coaxial cable or phone line and convert it into network data used by computers. (In most homes, the modem is the device with a coaxial cable sticking out of it).
Routers allow multiple computers to connect and share the same internet connection. This is why you need both of them—the modem connects to your ISP, while the router lets all your home devices get online.
It probably has several ethernet ports on its backside so that you can connect wired devices like desktop PCs to it. So be mindful of the value offerings of your ISP. For example, subscribing to Cox internet plans gets you a free security suite powered by McAfee.
Apps vs. Web Interfaces for Accessing Yyour Device Settings
Depending on the model, you access the router differently. Standalone units and modem/router hybrids
The first step is to make sure you've connected the router to your modem and turned it on. This step is pretty self-explanatory, but if you want a refresher, check out our guide to setting up a wireless router. The fastest way to do this is to check your ISP.
If you're not sure whether or not your modem has WiFiWi-Fi capabilities, consult the manual or manufacturer's website.
If you see a WPS (WiFiWi-Fi Protected Setup) button, itthat means it does. The WPS feature allows you to add wireless devices with the push of a button instead of typing in a password.
Next, access the device settings by logging into the web interface or opening the app. The default IP address for most routers may have changed after setup—consult your device manual for more information if needed.
Once logged in, find and select the option for creating a guest network under security settings.
Networking Alternatives for Guests
There are some extra steps involved in this method, but if you run an Airbnb or something similar, you might consider installing a second router instead of a guest network based on your router.
Before we get started, it's best to understand the difference between a guest network and an extender. Both extend the reach of your WiFi signal, but they do it in different ways.
A WiFiWi-Fi extender is a small box that repeats your primary router's signal—extending its reach across your house or apartment.
For example, if you have a dead zone in the back of your home where you can't get WiFi access, you can place an extender there to catch the signal from your router and rebroadcast it. The result: You'll have WiFi coverage in that dead zone as well.
In contrast, a guest network is a secondary network created by your router. It has its SSID (the name you connect to), password, and settings.
You can customize these things to whatever you like. In most cases, guest networks are limited to internet access only—no printing or file sharing on the local network (that is, other computers on your WiFi network).
Of course, there are many good reasons for wanting to put a password on your WiFi router. For one, it's a great way to keep tabs on the bandwidth usage of devices on your network.
And also, literally, anyone in range can connect to your network if they know the name and password. That means slow speeds for you and an increased risk of hacking if someone starts using your internet connection for nefarious purposes.
Setting up a guest network is quick and easy and offers peace of mind.
There are ways to go about creating a guest network: Most routers now offer this feature as part of their normal setup process, but if yours doesn't, you can still set it up manually.
The Significance of a Guest Network
Most people set up a guest network when they want to invite someone over and not give them access to their primary networks. In turn, avoid the discomfort of revealing the passwords to their OG networks.
Here are some of the many reasons having guest networks can be of great importance.
A guest network lets you control what guests can access on the internet and your home network. For example, you might want to limit what they can access on the internet or block them from accessing shared files and devices on your home network.
If you don't want your visitors on your home network in the first place, that's fine. But if you do want guests to have access to WiFi, you might consider the idea of having a dedicated network for them.
This way, they can browse while they're with you without getting access to your files or slowing down your network by streaming videos or uploading files.
It's never a bad idea to keep hackers and malware out of your home network. For example, a guest WiFi network lets your visitors connect to the internet without putting themselves or their devices at risk of infection from viruses lurking on your personal computer.
It also keeps them from being able to hack into any of your wireless devices. Setting up a separate network means that guests won't access the devices on your leading network, which protects them from intrusion.
Allowing people onto your primary WiFi network also opens up the possibility that someone could hack into it and steal your data.
This one's a no-brainer. If you have guests over, they don't need to know your WiFi password to get online —share the details of your guest network name and password so that they can start their surfing.
And if you have a large house with multiple routers (or even just one powerful router), setting up a guest network ensures that the signal reaches everyone in your home.
That's All, Folks
We hope our detailed guide on guest networks helped and offered insight into kickstarting your connection. It is essentially all you need to know about what's involved in setting up WiFi in general.
We also recommend investing in a reliable internet connection find internet providers that offer solutions based on your needs.